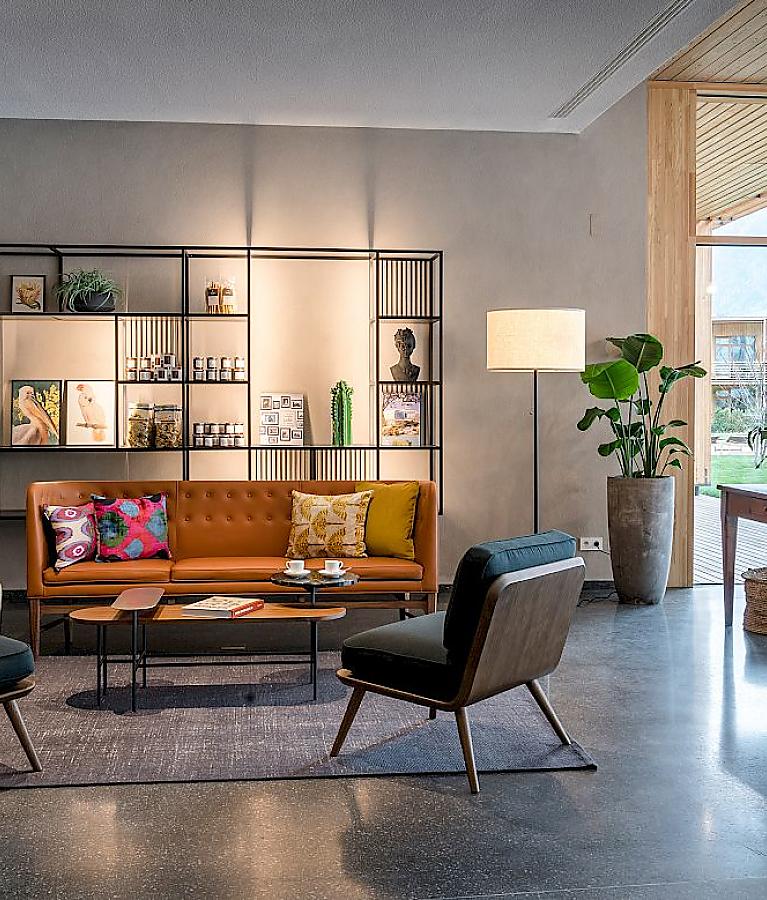 We're here to help.
SO THAT EVERYTHING RUNS LIKE CLOCKWORK
How late can I check in? Where can I park? And are four-legged friends allowed? Here you will find answers to the questions our guests often have. Is yours not there? Just give us a call or write, we will be happy to give you information.
From what time onwards can I arrive. How long can I stay?
The apartment is ready for occupancy from 3 pm on the day of arrival. On the day of departure, check-out is by 11:00 am. If you arrive after 7 pm, please let us know in good time.
What is included in the price?
Our special breakfast, use of the entire spa, yoga twice a week (by appointment), a parking space in our garage, daily apartment cleaning and final cleaning. Click here for an overview of the included services.
Can I book spa treatments in advance?
We recommend booking spa treatments in advance to ensure that get the appointment for the time you want. If you are flexible on time, you can also book appointments on site.
Is there a gluten-free / vegan breakfast option?
We prepare vegan options on our breakfast buffet daily, as well as gluten-free bread. However, it is helpful for our preparations if you let us know in advance should you have a vegan or gluten-free diet.
Where can I rent bicycles, e-bikes?
Right here in the village, (10 min. walk) there is a bike shop where you can rent bikes and e-bikes. We recommend booking these in advance as there can often be shortages, especially in high season.
Can I book a late check out?
With pleasure, subject to availability. Price per person € 60.00. Please contact reception to clarify possible capacities.
Where can I park my car? Is there a bicycle depot?
You can park your car in our spacious parking garage (free of charge). The lockable bicycle depot (with charging option for e-bikes) is also located in the garage.
Is there an e-charging station?
Yes. You will find designated parking spaces in our garage.
How is the apartment kitchen equipped?
Each apartment has a fully equipped kitchenette with two hotplates, refrigerator, dishwasher (including tabs), coffee maker and kettle. You will find all cooking utensils as well as dishwashing liquid, sponge and towel to dry.
Is there a bathrobe, wellness bag, bath slippers?
You will find our wellness bag and bathrobes in the apartment when you arrive.
For the sake of the environment, we have decided to no longer add bathing slippers in your bag and would encourage you to bring your own from home.
If you have forgotten them, you are welcome to buy some at the reception (€ 3,50).
Can I bring my dog?
You are allowed to bring your dog to VillaVerde. Please send this information when making an enquiry / booking. Bringing your four-legged friend must be confirmed by us in writing. Out of consideration for the other guests, we only accept a certain number of dogs at a time. € 35.00 is charged per dog (without food).
Dogs are not allowed in the garden and pool area or in the sunbathing area. You can take your four-legged friend with you to the terrace for breakfast. Indoors, we would be happy to reserve a table for you in the front breakfast area or on our veranda.
Is a holiday at VillaVerde suitable with children?
We have many families with children among our regular guests. However, it is very important to us to be able to offer all our guests rest, relaxation and lasting regeneration. Therefore, we ask families with children to support us in our concept to enable a relaxed sense of togetherness between young and old.
A pleasant and calm atmosphere is also very important in and around the pool so that all our guests can swim and spend time in the garden in a relaxed manner. Diving and jumping into the pool are not allowed and we kindly ask you not to bring any pool accessories, except water wings, into the pool. We do not offer an animation programme for children and there are no playgrounds in the hotel. (Children's rates on request)
Are room requests taken into consideration?
We are happy to try to take individual requests into account wherever possible. However, in order to maintain a seamless booking schedule, we are not always able to do so.