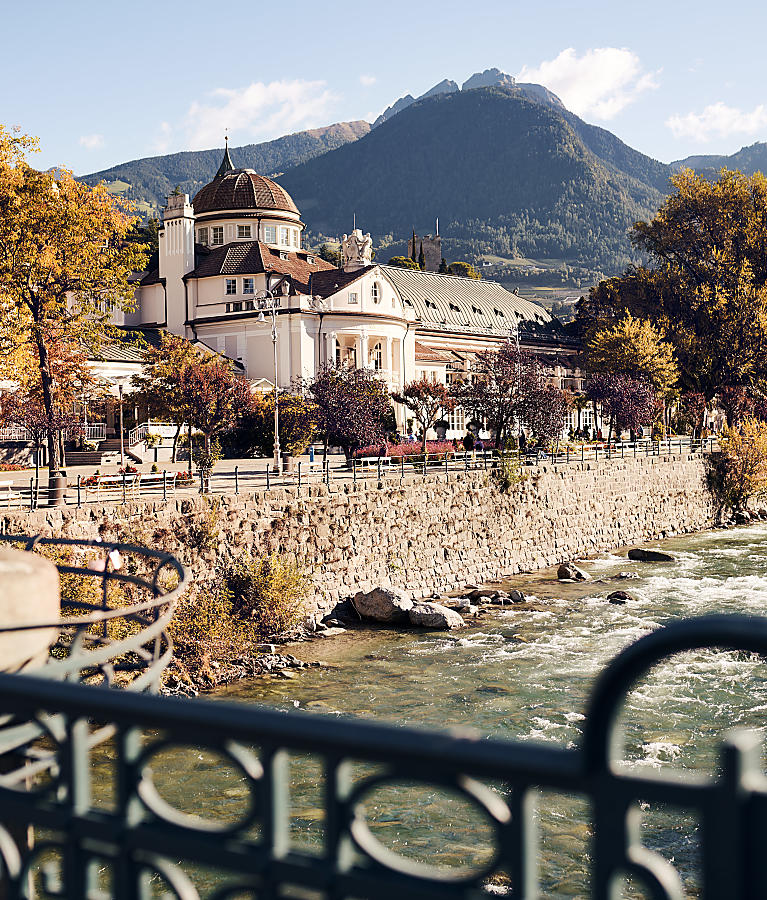 Curious for Kurcity?
THE MUST DO'S IN DOWNTOWN MERAN
VillaVerde is only a few minutes by bus from the spa town of Meran and thus very close to the magic of the thermal baths, sun-drenched promenades and historic arcades. You can also reach the old town on foot over the Algunder Waalweg and the Tappeinerweg and look out over palm trees, vineyards and the roofs of Meran during your leisurely stroll.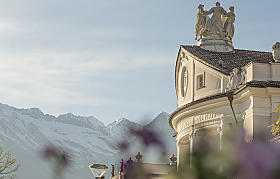 CITY STROLLS
In the old town of Meran
BETWEEN ARCADES AND SPA PROMENADES
Where in the 14th century merchants and traders exchanged goods, modern shops, boutiques and cosy eateries line up today. Treat yourself to some new clothes under the historic archways or enjoy a sparkling aperitivo on the sunny promenades - we love doing both!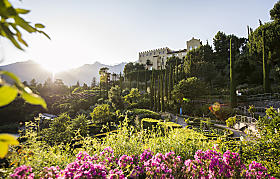 SEA OF FLOWERS
The botanical gardens
PLANTS FROM ALL OVER THE WORLD
In the gardens of Trauttmansdorff Castle, plants of all colours and shapes bloom - from native magnolia trees to exotic plants. This botanical wonder not only attracts plant fans, but also international musicians whose concerts you can listen to on mild summer evenings.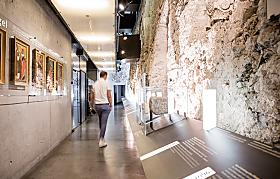 PURE CULTURE
Must-see museums in Meran
MORE THAN JUST A RAINY-DAY PROGRAMME
The Merano Stadtmuseum in the magnificent Palais Mamming should definitely be on your to-do list! Not far: the provincial castle and the women's museum. The Museum of Tourism has nested in the rooms of Trauttmansdorff Castle, where Empress Sissi once resided.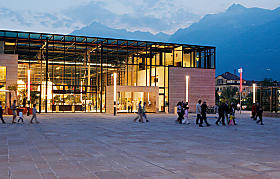 WHAT A FEELING
Dive into the thermal bath
25 TIMES WATER, BUBBLING AND A SENSE OF LIGHTNESS
As beautiful as our 20-metre pool and the natural bathing pond might be: A visit to Terme Merano thermal spa is almost a must for our guests: 25 pools await you here, both indoors and outdoors. The precious thermal water reaches the pools from the Vigiljoch via granite-rich mountain tunnels.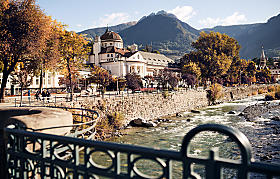 LOCAL SHOPPING
The markets in Meran
TO BROWSE, TASTE AND ENJOY
Farmers gather to offer their products at the farmer's market at the end of Galileistraße every Saturday. On Saturdays, too, only genuine "Made in South Tyrol" products are sold at the Meran market on Sandplatz. And if you love antique treasures as much as we do, visit the flea market on the Winter Promenade - every last Saturday of the month.